FTP
From CsWiki
!!! Instructions on this page do not apply to I-CORE users !!!
You can only ftp to river (You can also Scp)
In order to ftp to one of the allowed CSE hosts, you must go through the CSE gateway. The following is the procedure to ftp to a CSE host:
Command Line
Ftp to gw.cs.huji.ac.il.
Login using your CSE username and your OTP password. If you were successful, the gateway will respond 230 User authenticated to proxy.
Enter: user USERNAME@CSEHOST. For example: user rafa@river. If you were successful, you will get the response: 230 User rafa logged in.
Now proceed with regular ftp commands.
me@myhome ~ $ > ftp gw.cs.huji.ac.il Connected to e-sg.cs.huji.ac.il. 220- 220- Institute of Computer Science 220- The Hebrew University of Jerusalem 220- 220-Please report problems via e-mail to gw@cs.huji.ac.il 220- 220-after you have been authenticated by the proxy enter: 220- user username@host 220-and this time use your regular password. 220- 220-[ common FTP servers accessible with the global file system are: 220- river, bagel, (*)humus 220- (*) server not accessible for undergraduate students 220-] 220 331 Enter authentication (OTP) password for GSSAPI GSSAPI accepted as authentication type GSSAPI authentication failed Name (gw.cs.huji.ac.il:me): mycsuser 331 Enter authentication (OTP) password for mycseuser Password: typing OTP password ... 230 User authenticated to proxy ftp> user mycsuer@river 331-(----GATEWAY CONNECTED TO river----) 331-(220 ProFTPD 1.3.5b Server (Debian) [132.65.128.10]) 331 Password required for mycsuser password: typing CSE password ... 230 User mycsuser logged in ftp>
Graphical FTP
The best way to use FTP is from the command line. It is faster and simpler. Additionaly most graphical FTP clients can't connect to CSE since we use a gateway/proxy. However, if you really really want to use a graphical FTP client, here are some instructions.
Unix
Install gFTP, open it and do the following steps exactly (please read it once before connecting).
Write the host you want to connect to (like river, bagel or any other), your username, and your UNIX password (not OTP). Fill all this data in the right sections below the menu bar. (Do not connect yet.)
On the upper menu, go to FTP -> Options, choose the FTP tab, and give the following info:

Proxy hostname: gw.cs.huji.ac.il
Port: 21
Proxy username: your CS username (the same from step 1)
Proxy server type: choose user@host from the menu
Proxy password: your OTP

Then press OK and immediately connect by clicking the computers icon on the upper left side of the client (left to the host you wrote on step 1). This step should be done quickly before the OTP is invalidated.
---
Windows
You should be aware of any VPN programs installed on your computer that can cause "FTP over Gateway" to disfunction.
Firstly, download Total Commander, file manager.
It is a 'two panel' Norton Commander like file manager for windows.
Now run it from the desktop icon or from the start menu. Press 1/2/3 what it is asking for. You will see two panels with menus under the top window bar (File, Mark, etc...).
Go to 'Net' -> 'Ftp Connect' (Ctrl+F)
Choose 'New connection...' (Alt+N)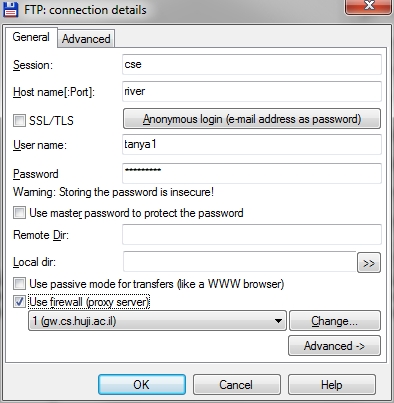 Session: CSE
Host name: river
User name: <your user name>
Password: <your unix password>
Use firewall (proxy server), check it and click 'Change'
On the Advanced tab:
'Send Method-> type 'user@hostname'
Host name: gw.cs.huji.ac.il
User name: <your user name>
Password: <leave blank> <= that means don't write anything so it will ask every time OTP password.
Click 'Ok'
In window 'Connect to ftp server', choose saved session (CSE in our case), Click Connect on right side, in popup window write your OTP password and you will see either on the right or left panel your homedir and on other side - your computer files!

Good luck!
---
Windows / MAC
FTP'ing with Filezilla
Download the Filezilla client: filezilla and install it.
To set up the FTP proxy:
DO NOT USE SETTINGS IN PICTURE - SEE SETTINGS BELOW
Choose FTP proxy setting
Type of FTP Proxy: Custom
Proxy host: gw.cs.huji.ac.il
Proxy user: username
Proxy password: password
Where:
username: your cs username
password: your regular UNIX password (IDNG)
In window type (don't use copy/paste from web, it can insert invisible character):

user %s
PASS %p
user %u@river
PASS %w

Choose Transfers -> File Types, check 'Default transfer type' 'Auto'
Click OK
Then:
Go to File -> Site Manager
Click "New Site", enter name, like "CS", and fill fields like this:
Host: gw.cs.huji.ac.il
Servertype: FTP
Logontype: Ask for password
User: login
Encryption:'Only use plain FTP (insecure)' OR 'use simple FTP only (unsecured)'.
Where:
Select Tab 'Advanced', choose servertype: Unix, uncheck Bypass proxy

In Tab 'Transfer settings' choose Transfer mode "Passive"

Check 'Limit number of simultaneous connections'

Set 'Maximum number of connections' to 1

Click Connect,

Enter your OTP password.

Press OK and connect.
If that doesn't work

Go to File -> Site Manager

Select the site you configured earlier (aka 'CS')

Go to tab 'Transfer settings' and choose Transfer "Passive"


Happy ftping!
Updated by Michael Sichenko 27/03/2020 michael.sichenko@mail.huji.ac.il
Updated by Dmitry Perchanov 05/04/2008 osdmitryp@cs.huji.ac.il